There're many options for yarn out there, and the most commonly recommended yarn for amigurumi is
medium worsted weight acrylic yarn
(the weight of the yarn refers to the thickness of the yarn). To keep your amigurumi's stitches tight, you'll want something a little more "sturdy".
What yarn to choose? Here are some other expert opinions:
•
The Silver Hook
: advantages of acrylic yarn
•
Freshstitches
: review of wool, animal yarns, cottom, soy and bamboo
•
Nerdigurumi
: a case for cotton yarn
(I got a small skein of cotton / acrylic blend the other day and I love it. The stitches are so crisp. That particular Bernat yarn is discontinued though, and others I've seen are on the expensive side though, so I'm going to treasure my little skein)
•
Craft Passion
: how to substitute yarn
Learn how to read the stuff on a yarn label
•
Craft Yarn Council
•
Lion Brand Blog
What else & my two cents:
•
Start with a lighter colour:
The first ball of yarn I got was black, since it's my favourite colour, and I figure black will come in handy, but what I learned afterwards is that darker yarn makes it harder to see the stitches. No wonder I was having a hard time figuring out where I was supposed to insert the hook and where one stitch ends and the next stitch begins.
(Oh, and did you know that there are actually
crochet hooks that will light up
so you can see the stitches more clearly? Weird stuff.)
•
Start with a cheaper and thicker yarn:
Yarn is relatively cheap anyway when you consider how you can usually make a few amigurumi projects out of one skein. The various ones I've bought range from $3.99 Cdn to $6.99. While I sometimes find the cheaper ones (like the super saver kinds) are actually easier to crochet with, I do prefer the feel of the ones that are softer (like the Red Heart Soft Touch or the Bernat Satin). The problem with those is that in the beginning, when I wasn't used to the motions of crocheting, not to mention I was probably poking in all the wrong places and had to redo stitches frequently, I found the yarn split easily and that got me even more confused. I would suggest trying a cheap and thicker yarn as a starter to minimize the frustration.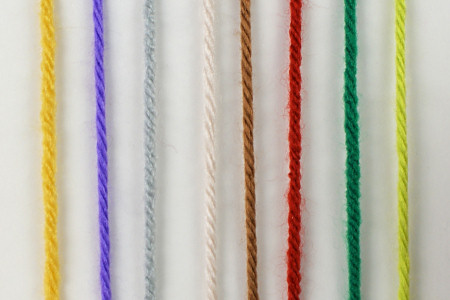 Be sure to check out Planet June's experiment with different yarn (pic source: Planet June)
•
Be careful about mixing your yarn:
It's usually not recommended to mix different brands of yarn in one project, even if they claim that they're all medium worsted weight.
Planet June
has an excellent test of which yarns are interchangeable with which.
Having said that, sometimes it's unavoidable when only a certain brand has that perfect colour you need. You may have to do an increase / decrease to adjust as you're crocheting along.
•
Shine or no shine?
Some yarn also has a shine to it (like Bernat Satin), and you may or may not like that effect, so watch for that.
•
Giving your amigurumi to babies and kids?
You may want to look for yarn that is washable.
Here're the websites of some common yarn brands. The sites are also good for free patterns.
•
Red Heart
•
Bernat
•
Lion Brand
•
Patons
•
Caron
•
Lily Sugar'n Creme
•
Michael's Loops & Threads